ACORE Introduction to Radiology Series:
Please read the instructions carefully and complete watching the lectures listed below by clicking on the links.
---
The Principles of Radiology series for medical students is composed of 9 sessions. Each session
follows the format of pre-test, video, and post-test.
Your answers to the questions are anonymous and will not be shared with anyone. Do your best and
you are not being graded as this should be a learning experience.
Please take the pre-test BEFORE watching the session video (the individual pre-test links are
shared on the next page for each session and the video link is provided upon submission of the
pre-test).
AFTER watching the session video, take the post-test for that session to complete your attendance at the session.
The post-test is the exact same as the pre-test. The post-test link is provided after you complete the pre-test of that session or you can check the
description of the video to access the post-test. All videos are unlisted on YouTube and you must
have the links to access them (provided for each session after you submit the respective pre-test).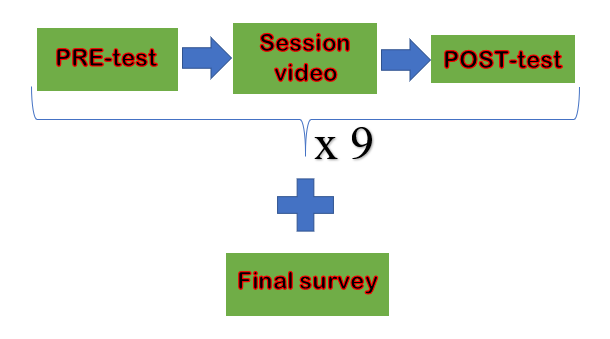 You will be given one final survey to complete at the end of the last session to mark your attendance. This link will
be provided to you after you submit the post-test of the last session.
Please complete the following sessions below in the order provided by the DEADLINE.
The deadline to complete all of the lectures and their tests is August 31st at 11:59 PM Central time.
FINAL SURVEY Link will be provided upon submitting the post-test of the last
session.